Tainan City (臺南/台南), is the oldest city in Taiwan for its over 200 years of history as the capital of Taiwan under Koxinga and later Qing dynasty rule. It's about 2,192 sq km, approximately 1/17 the size of the whole Taiwan. With its history, Tainan is a great city to pay a visit if you are in for the cultural and food experiences. As Tainan City has no mass railway transit, you are expected to be quite fit for all the walking or just grab a cab. For that reason, I checked into Tai Zih Hotel (Prince Hotel/太子大飯店) in the Central West District (中西區) as there was where all the historical trails, great food and entertainment could be found within walking distance. No doubt the hotel was quite old but our room has all the basic amenities to my simple needs. After all, we'll be out the whole day and just needed a personal space to refresh before our next exploration. Just a precaution, it's not a family-friendly hotel as stated in my note below.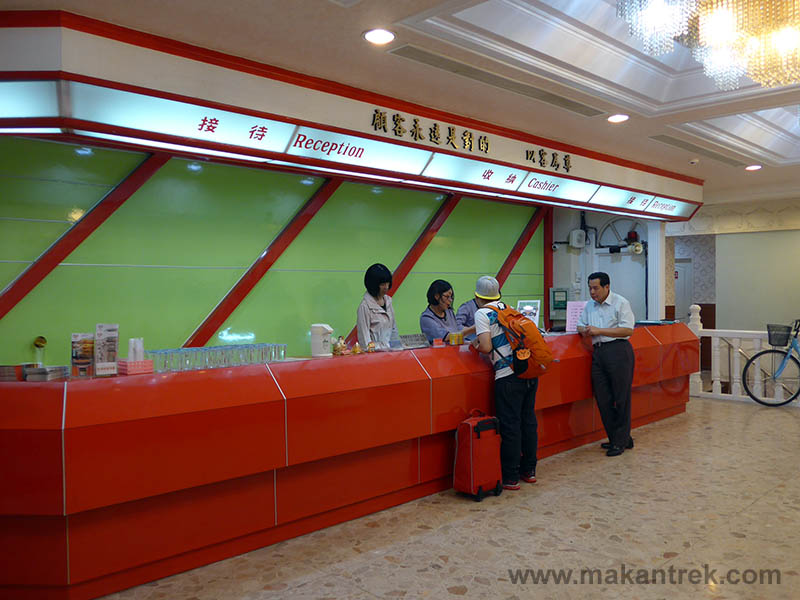 Tai Zih Hotel is a 3-star hotel and the location is quite strategic as it's at the center of many food stalls, beverages stalls, pub hopping and even a cinema a stone's throw away. Basically, each room would come with a queen-sized bed, wardrobe, dressing table, TV, mini refrigerator, hairdryer, bathtub with shower, a set of toothbrushes (purchase your own toothpaste from the nearest convenience shop), shampoo & conditioner sachets, drinking water, paper cups, towels and more.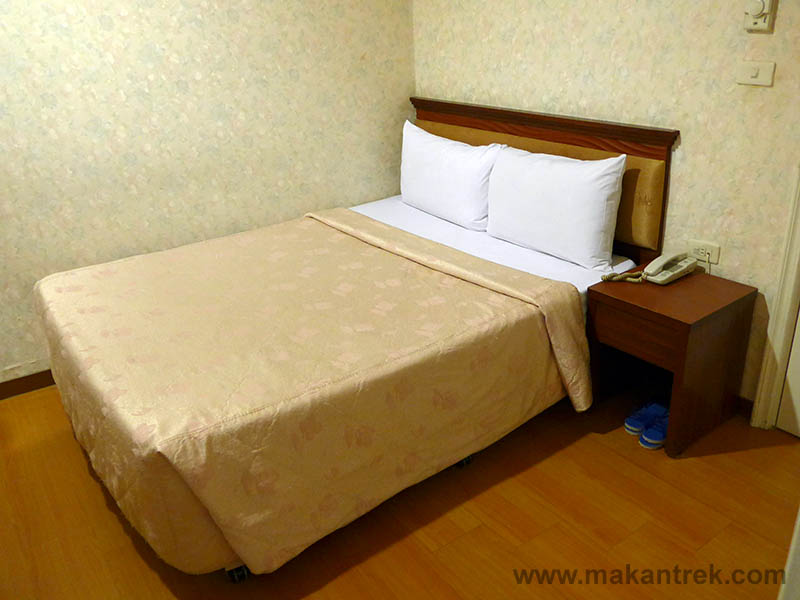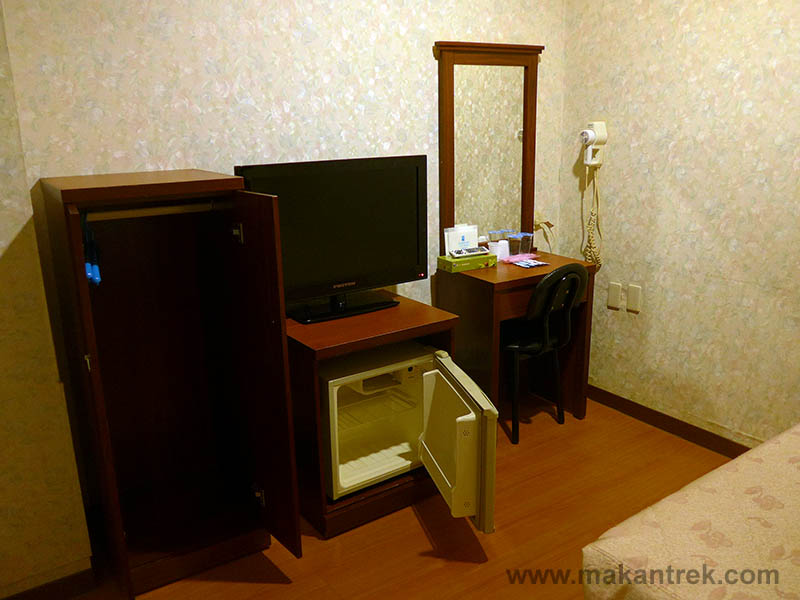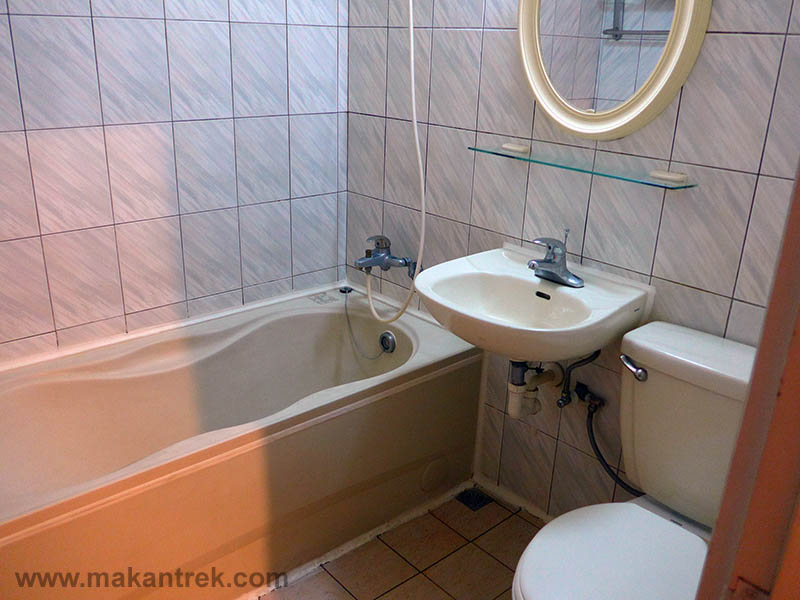 Even with such a cheap room rate (about NT800 per night), each person was given THB60 breakfast voucher to dine next door at Mama Xu's Breakfast Shop (徐媽媽早餐店) from 6.00am until 11.00am daily. The menu can be quite extensive and having NT120 for 2 pax breakfast can be quite adequate.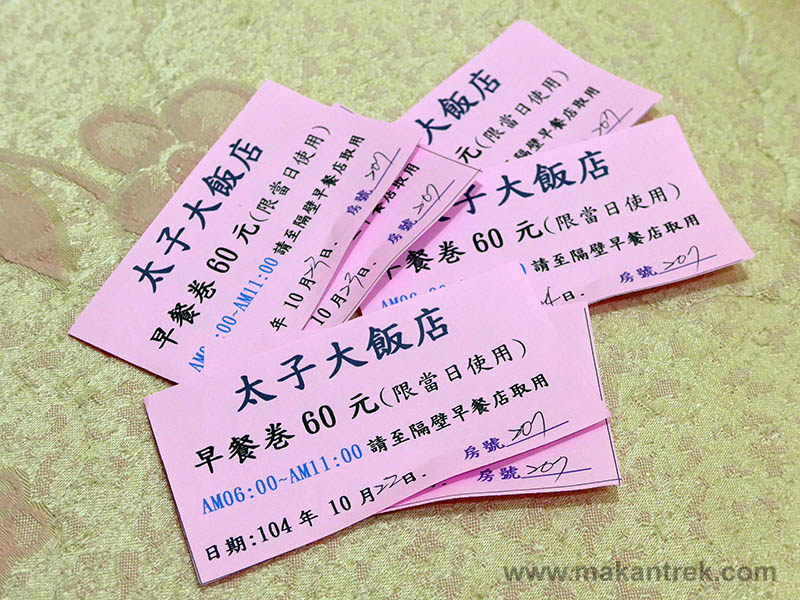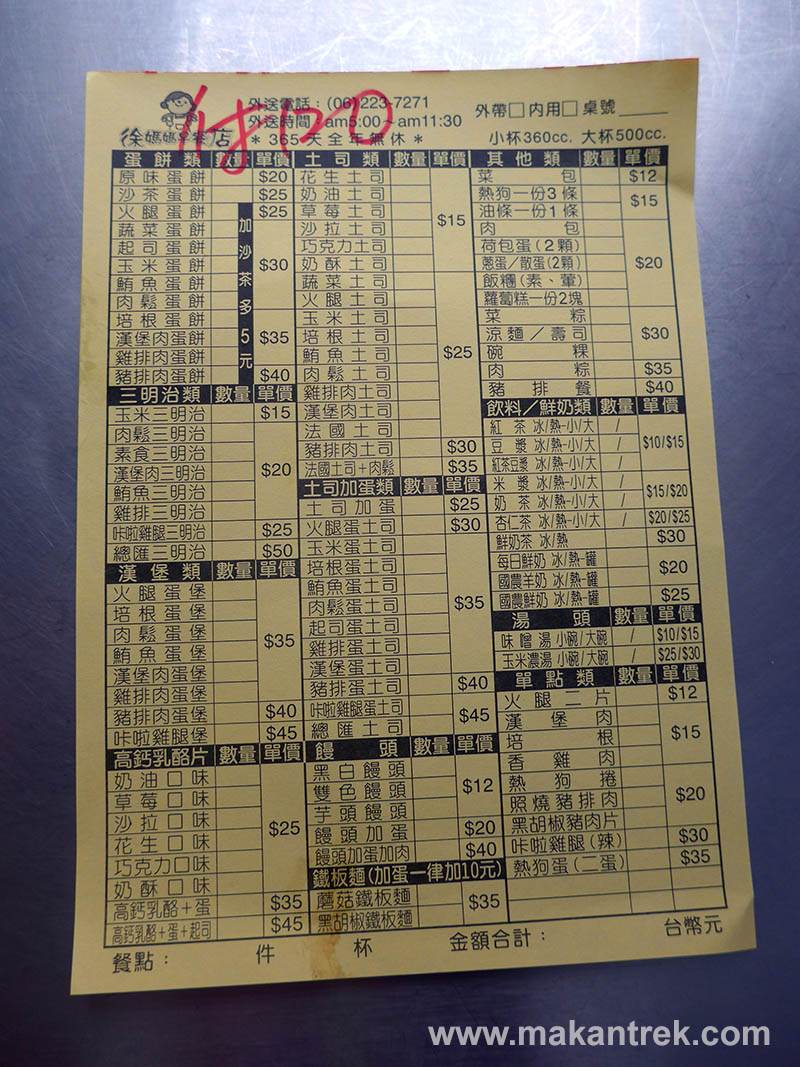 We managed to share out Bacon Pancake (培根蛋餅 – NT35), Meat Floss Sandwich (肉鬆蛋土司 – NT35), Spicy Crispy Boneless Chicken Drumstick (咔啦雞腿辣 – NT30) and a cup of Hot Almond Milk (杏仁茶 – NT20).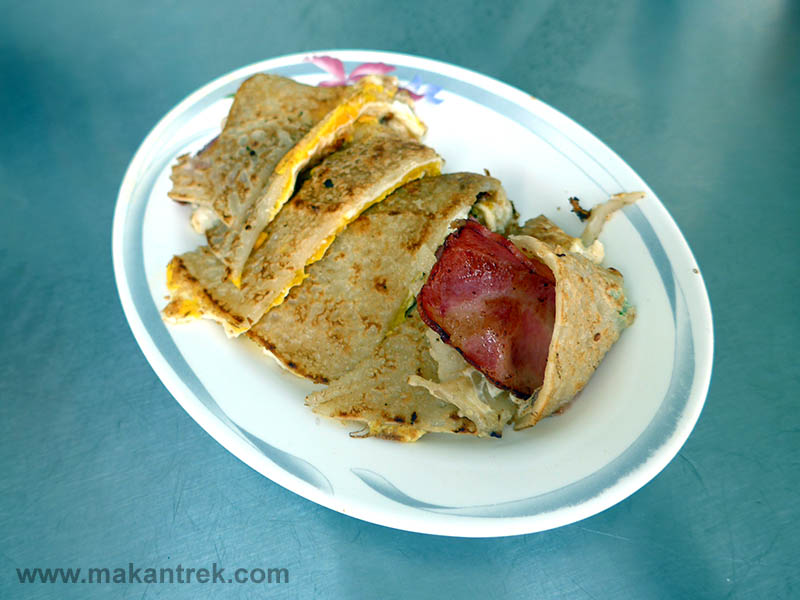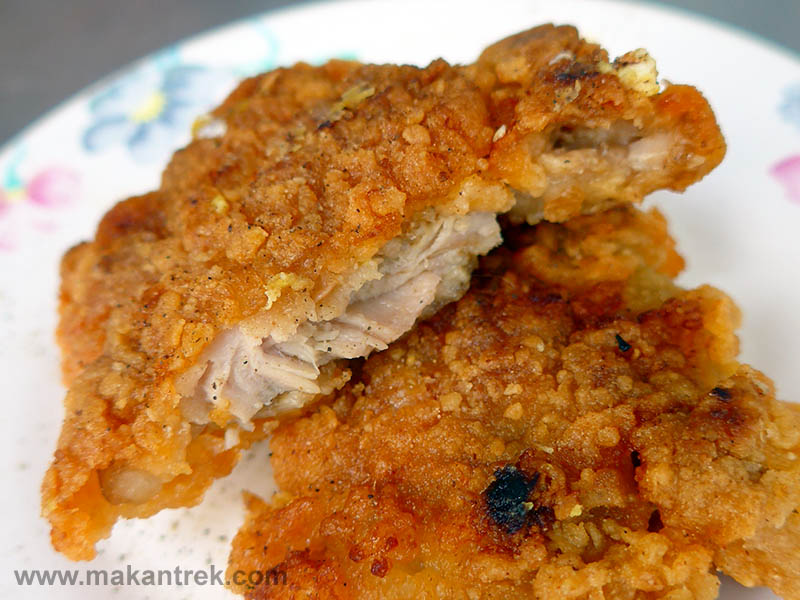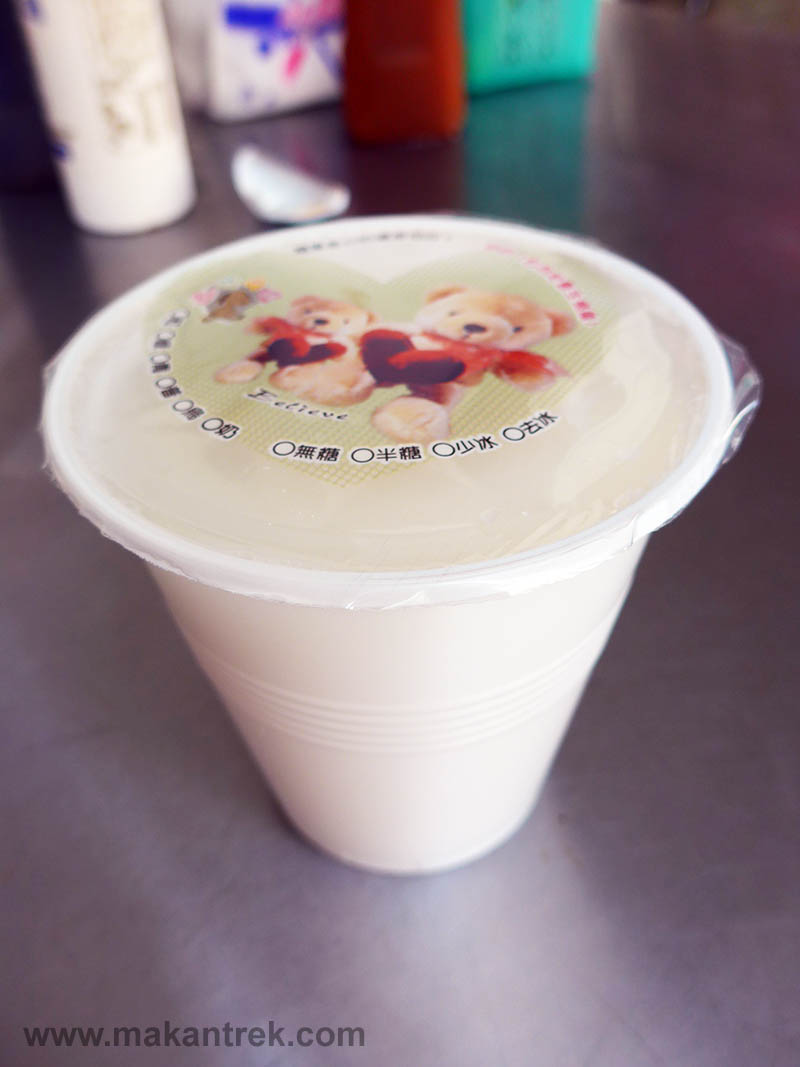 Overall, it's still a quiet place to stay without much sound pollution. For a price being one of the cheapest around, you can't expect to request for too much. As long as it has a functional bathroom and a clean bed for a few hours of rest, I'm fine with it.
Tai Zih Hotel (Prince Hotel/太子大飯店) | 349 You'ai Street, Tainan City, Taiwan 70055 (友愛街349號,台南市,台灣70055) | Tel: +886 6228 9171 | Operation Hours: 24 Hours | GPS Coordinates: 22.992415, 120.194540 |
Directions: As my flight arrival was at Kaohsiung International Airport, I've to take the Kaohsiung Metropolitan Rapid Transit (KMRT) and Taiwan Railways Administration (TRA) to reach Tainan City. From the Kaohsiung International Airport (高雄國際航空站), walk towards the KMRT Kaohsiung International Airport (高雄國際機場車站- R4) and purchase a ticket to Kaohsiung Main Station (高雄車站 – R11).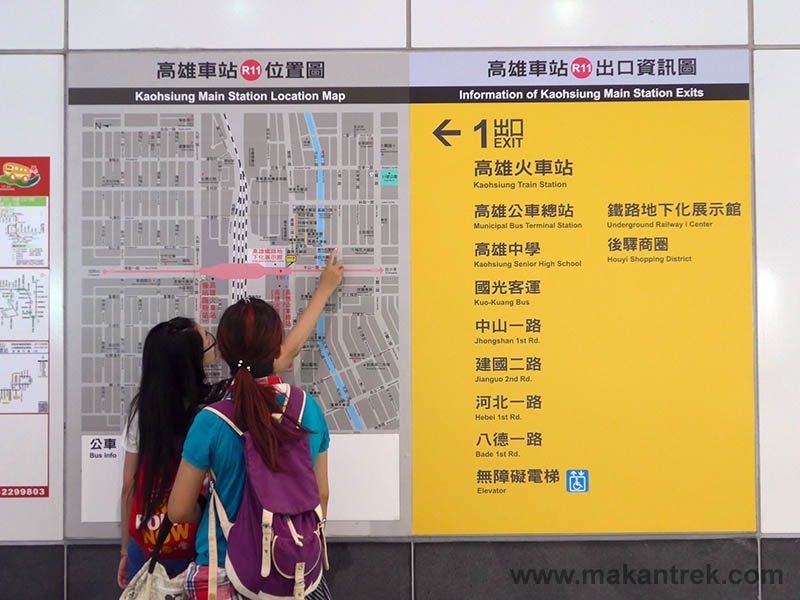 Walk out via Exit 1 to the Kaohsiung Train Station (高雄火車站) the station, opposite at the next building. Purchase your tickets to Tainan Train Station (台南火車站). There are many ticket options but I would advise you to get the normal one (NT68) will do. From the Tainan Train Station (台南火車站), just grab a cab to the hotel. The charges will be between NT120-NT130. The journey will take about 10-15 minutes depending on the traffic. You can also take 30-40 minutes of walk to the hotel but it's not advisable with your luggage. After all, the cab services are metered and the rates are reasonable.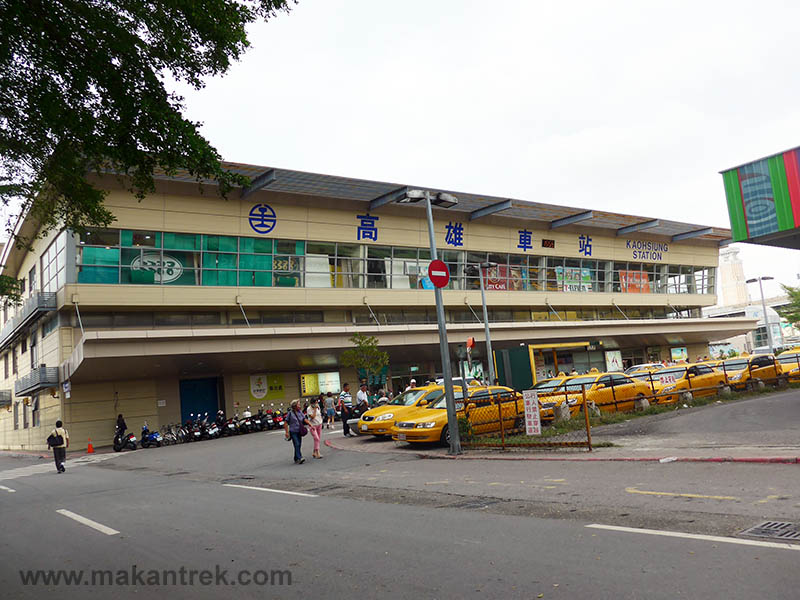 Note: After confirming our booking online, upon arrival we found out that the hotel did provide some hourly rates, something that we were not aware of. It's surely not a hotel for your family vacation. It was a hint that it might be a place for vice services or a regular place for sex. We were fortunate not to encounter any such behavior while we were there. However, it was proven to be so when we accidentally stumbled upon some porn channels. I'm sure you won't want your children to ask many questions, right? Haha~ 😛