I would always strive for a balance in everything, the Zen way of bringing the mind, body and senses in a state of togetherness. When you work hard, you must always play hard by finding ways to rejuvenate oneself, mentally and physically. Rock Spa @ Hard Rock Hotel, Penang, has the same ideology as me by transcending the current spa rituals with their "Live Hard, Purify Harder" slogan and providing Rhythm and Motion Spa Treatments. There are only 4 other such sets in the world, namely, HRH Ibiza (Spain), HRH Palm Springs (California), HRH Punta Cana (Dominican Republic) and HRH Riviera Maya (Mexico). Their fully immersive music-centric spa menu utilizes amplified vibrations, pressures and patterns as the foundation of its treatments. This groundbreaking experience takes guests on a rhythmic massage journey, utilizing Hard Rock's differentiator (MUSIC) to connect the healing power of music with the artistry of massage therapy.
Upon nearing the premises of Rock Spa by the beach, you would smell a nice scent. A relaxing aromatherapy essential oil called "Perk Me Up", a combination of lemongrass, peppermint and eucalyptus oils to soothe your mood prior to your spa treatments. Other than being a natural deodorant, it also acts as an analgesic, antidepressant, antimicrobial, antipyretic, a digestive support agent, anti-inflammatory, antispasmodic, decongestant, antiseptic, antibacterial, stimulating and other medicinal qualities.
Upon your acceptance to experience the spa treatments at Rock Spa, you would first be served with a hot cup of Ginger Tea. It's a relaxant beverage which would help in relieving your stress level, strengthen your immunity, improving digestion on top of it other anti-inflammatory and anti-respiratory health benefits.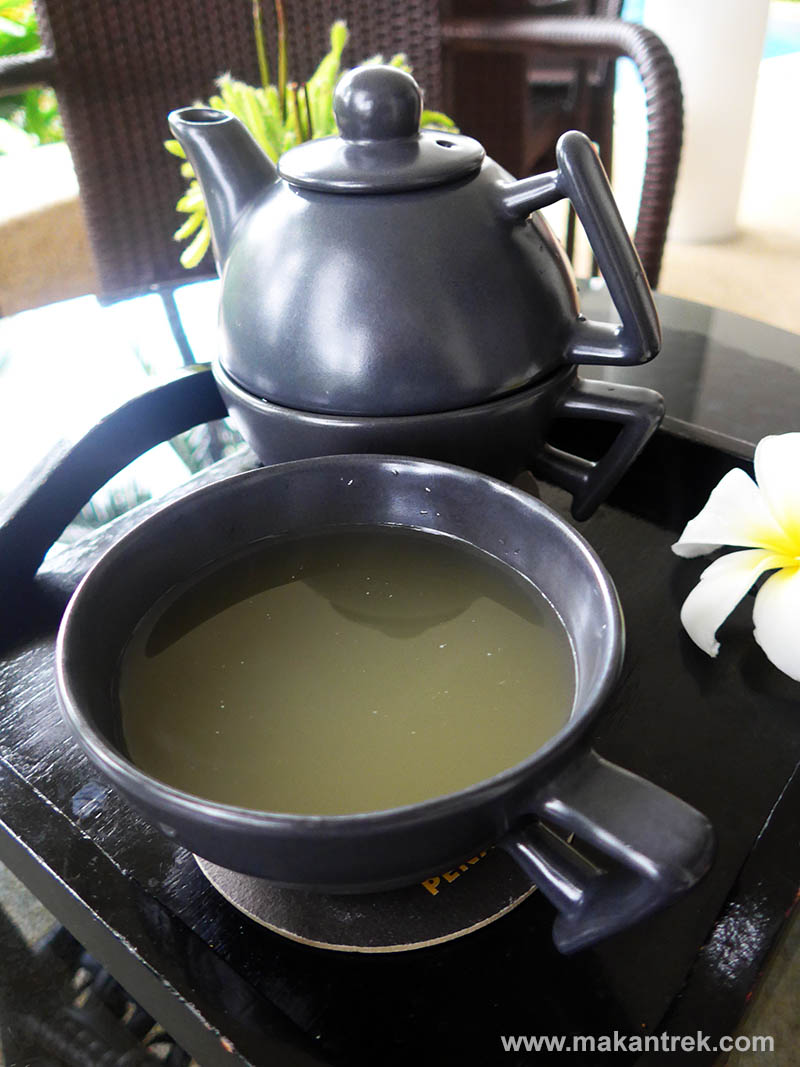 There are 4 packages, namely Synchronicity, Smooth Operator, Face the Music and Wrap Remix, as shown on their menu below. More options are shown on their full spa menu.
You would also be given another option to choose the type of massage oil you would want to utilize during your massage session such as Balance (detoxification: rosemary + orange + basil), Energize (relieve muscle stress: ginger + grapefruit + eucalyptus) or Chill (relaxation: lavender + geranium + cedarwood).
The spa treatment was remarkably an out-of-the-world experience, none that I've encountered through my various spa treatments. It started off with some soothing yet TREBLE based beats from the overhead semi-sphere like space-age musical source with ripples of BASS slowing seeping into the body with mild vibrations via the massage table. Wow! This is the kind of therapeutic massage I've been seeking for a long time! I was in such a relaxed and comfortable atmosphere that I almost dozed off in the zero-stress mental state. The music emitted which I presumed had a balance of frequencies such as Alpha, Beta, Gamma, Delta and Theta waves indeed churned out the best in me – energy wise, alertness wise, creativity wise, memory wise and more. My brain cells were totally revitalized and I had a great sleep that night. On the other hand, the Vibration Therapy via the massage table did improve my muscle soreness and my body felt more relax and not in such a tense mode as it used to be.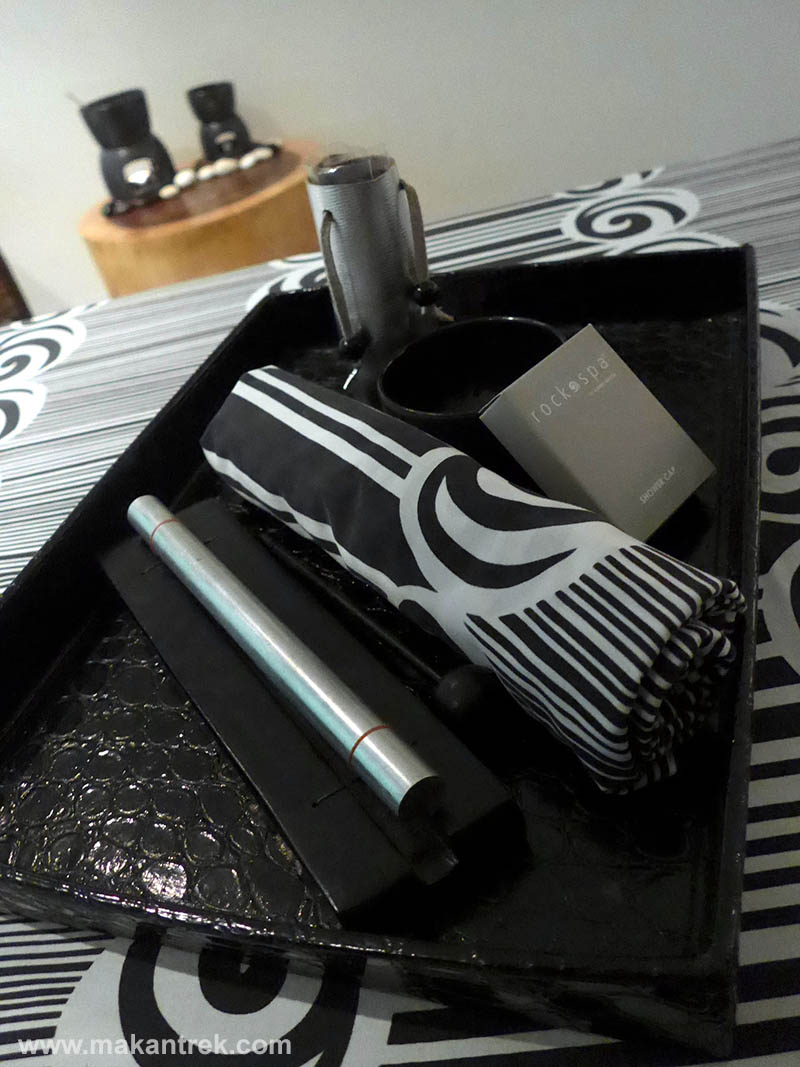 Please call +604-886 8729 or email spa.penang@hardrockhotels.net to make your reservation at least 2 days in advance. Do adhere to their Etiquette Rules of arriving at least 10 minutes earlier before your scheduled appointment, no inappropriate behaviors and the advice of not bringing valuables into Rock Spa. The treatment room would also a wardrobe for keeping your belongings, a basin with mirror, drinking water, comb, hair clips and more at your disposal.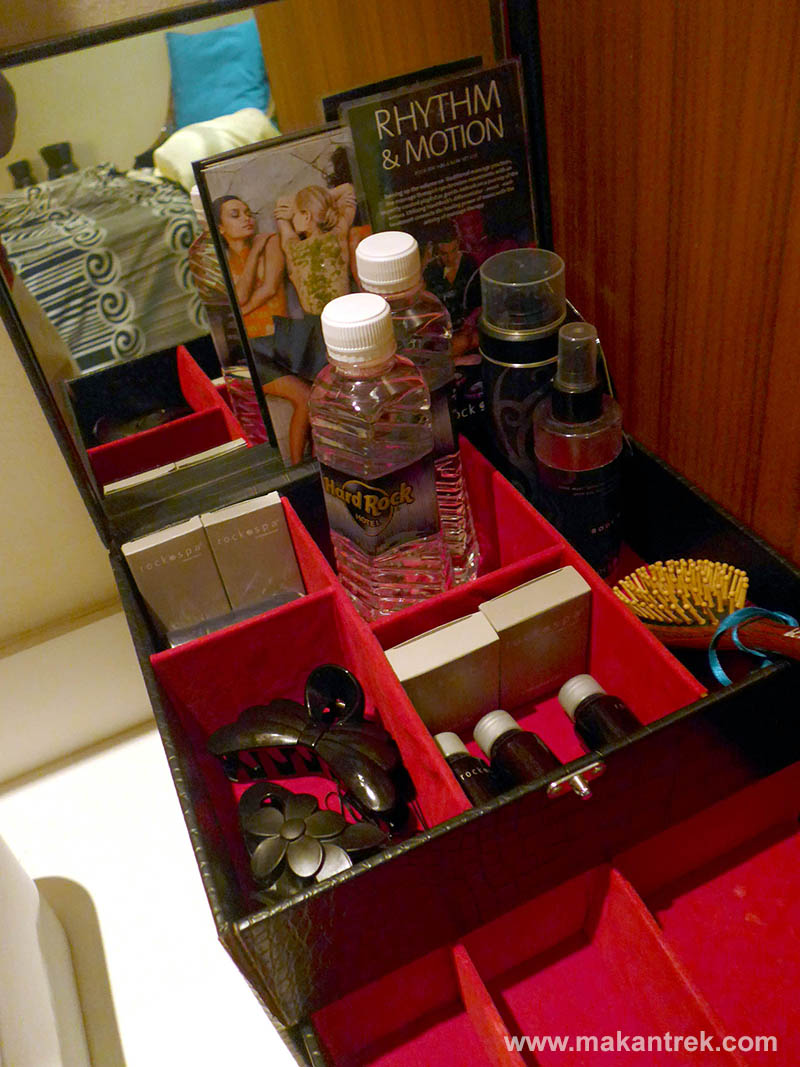 Overall, I had a great session at Rock Spa and I would surely come back for more Rhythm & Motion Spa Treatments. The Rock Spa is located at the left wing of Hard Rock Hotel Penang. Upon entering, just head for the nearest car park on your left and then follow the left side of the building until the furthest end near the beach area. Alternatively, you can walk into the main entrance of the hotel and head towards the swimming pool area and then walk through a pathway of sands towards the left side of the premises. My advice would be using the former route to avoid getting pebbles of sands on your shoes.
Rock Spa @ Hard Rock Hotel Penang | Batu Ferringhi Beach, 11100 Penang, Malaysia. | Tel: +604-886 8729 | Operation Hours: 9.00am – 9.00pm (2 days advanced booking required) | GPS Coordinates: 5.467659, 100.240869 |