Prewarning: This is a super long post to share what you need to know while traveling onboard SuperStar Libra and more.
After so many years of contemplating if I should go on a cruise for a vacation, I had finally decided to join Hwajing Travel & Tours Sdn. Bhd.'s 4D3N package cruise on Star Cruises – SuperStar Libra. It was a Penang-Port Klang-Phuket-Penang cruise experience onboard where one would not have to worry further as accommodation and meals are all provided in the package. For any gourmet or gourmand, cruising onboard SuperStar Libra could be such heavenly culinary experiences from having a refined gastronomy palate to eat-until-you-drop buffet spreads. For the rest, it could just be the finding of peace, calmness and tranquility in slowing down life and spending valuable time with their loved ones and friends.
Before moving into a more refined preview onboard, let's have a look at what made Hwajing Travel & Tours Sdn. Bhd., an established travel and tour company with almost 3 decades of handling cruise packages, the perfect choice for your cruising needs. Other than offering a niche for luxurious modern cruises at affordable prices, the company also caters perfectly to the needs of its customers in terms of various vacationing styles and experiences – the latest being their first ever "Royal High Tea" experience onboard Star Cruises – SuperStar Libra. Each of their registered passengers would be invited to their "Exclusive Royal High Tea" at Four Seasons Restaurant onboard, served by well-trained steward attendants, clad in traditional steward outfit, white gloves and napkins. The best news is, it's REFILLABLE within the 2-hour stipulated time frame. Hwajing Royal High Tea Invitation Card would be handed out at the check-in counter. You are advised to proceed to the Four Seasons Restaurant to make your reservation. There would be 2 sessions (1st seating: 10.00am-11.00am, 2nd seating: 2.30pm-3.30pm) available daily and your IMMEDIATE registration for your slot is required to avoid any disappointment.
Basically, you would be served with your choice of tea from a selection of English Breakfast (prevention of cancer & kidney stone), Earl Grey (anti-anxiety, anti-depression & prevention of heart disease), Pure Peppermint (sinus & stomach problem relieves) or Pure Green Tea (anti-oxidant & anti-inflammatory).
Then, a 3-tier serving tray with delicious canapes of entrée, Hors d'oeuvre and sweet temptation, would be presented to you to be shared between 2 persons. The First Tier (Entree) would consist of Prawn Fritter, Savory Quiche and Baked Mushroom Mini Pie. The Second Tier (Hors d'oeuvre) would consist of Mini Ratatouille on Tart, Smoked Salmon on Brioche, Aloo Vada on Prata Bread, Smoked Duck on Mini Baguette, Camenbert Cheese on Rye Roll, Tuna Mousse on Croissant Roll and Spiced Squid with Caramelized Onion. Finally, the Third Tier (Sweet Temptation) would consist of Cupcake, Fruit Tart, Red Velvet, Cheese Cake, Creme Brulee, Rainbow Macaron, English Fruitcake and Scones with Jam Marmalade.
SuperStar Libra consists of 10 decks where most of the time you would be spending on Deck 4, Deck 5, Deck 6, Deck 9 and Deck 10. You can click to enlarge the diagrams shown below for clearer views.
Here's the summary of the location for all your leisure needs.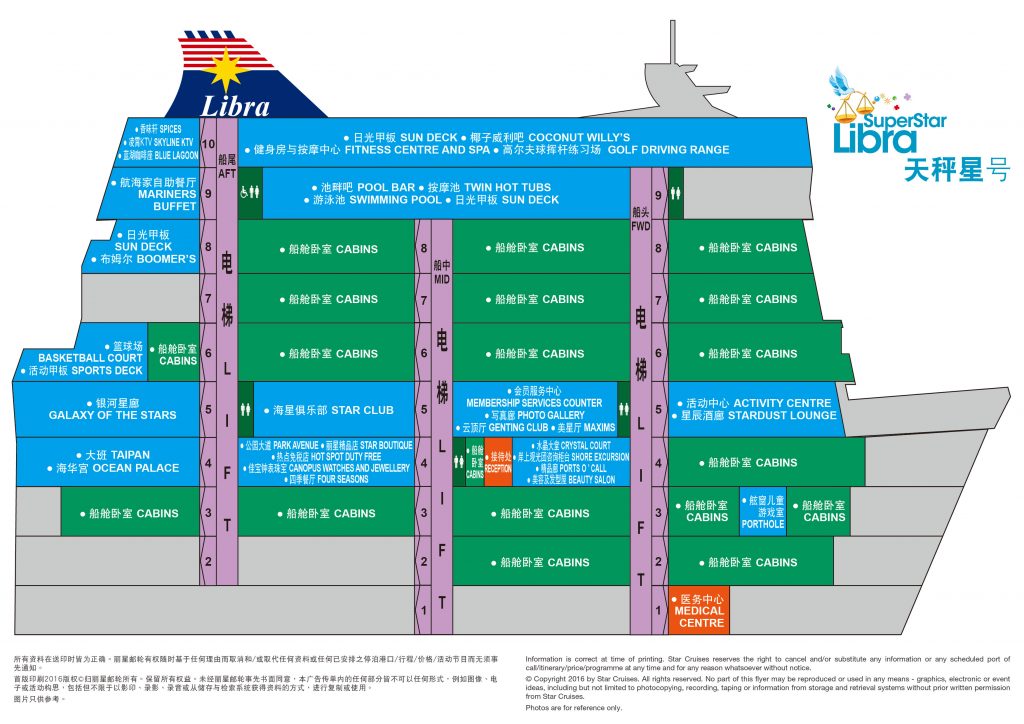 DINING & BEVERAGES:
For dining or drinking purposes, whether it's for breakfast, lunch, tea, dinner or supper, please check the Star Navigator for the allocated time. SuperStar Libra has 6 restaurants and 2 bars available for all your gastronomical and refreshment needs.
MARINERS BUFFET (INTERNATIONAL BUFFET – PORK & LARD FREE): DECK 9 AFT
This family-friendly restaurant offers an international buffet serving popular dishes from around the globe.
FOUR SEASONS RESTAURANT (WESTERN CUISINE – PORK & LARD FREE): DECK 4 MID
You can explore the fantastic menu at Four Seasons Restaurant which serves a wide choice of both Asian and Western dishes.
SPICES (HALAL CERTIFIED BY JAKIM – REQUIRED PAYMENT FOR NON-MUSLIMS): DECK 10 AFT
Spices is a relaxed dining space and serves a wide choice of Asian cuisines suitable for all ages.
BLUE LAGOON (HALAL CERTIFIED BY JAKIM – 24 HOURS – REQUIRED PAYMENT): DECK 10 AFT
The restaurant is open 24 hours a day and serving popular Asian specialties with a touch of local Malaysian fare.
OCEAN PALACE (CHINESE CUISINE): DECK 4 AFT
This elegant dining space serves delicious Asian and opulent Chinese fare.
TAIPAN (CHINESE CUISINE – REQUIRED PAYMENT): DECK 4 AFT
When you need a little privacy with exclusive dishes to entertain your family members or clients, Taipan could be that sophisticated Chinese restaurant with offering of classic dishes, discreet services and comfortable ambiance.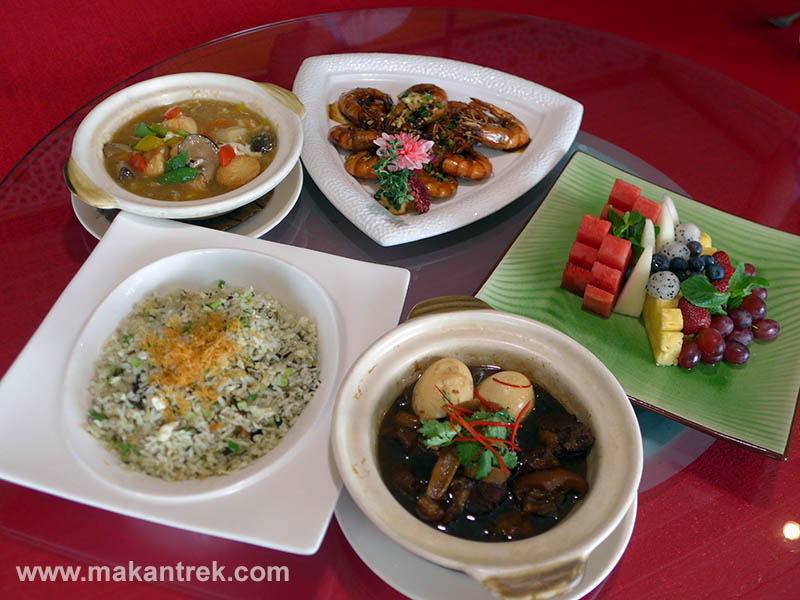 POOLSIDE BAR (REQUIRED PAYMENT): DECK 9 AFT
This bar has an extensive drink list with great offers all the time. You could always order some great deals to be enjoyed throughout your cruising period just next to the pool.
COCONUT WILLY'S (REQUIRED PAYMENT): DECK 10 FWD
When you are seeking a breezy spot on the upper deck to enjoy some beverages with the company of friends or family, Coconut Willy's will be the ideal place. You might even get some live music on most evenings.
ENTERTAINMENTS:
CRYSTAL COURT: DECK 4 MID
STARDUST LOUNGE: DECK 5 FWD
GALAXY OF THE STARS: DECK 5 AFT
GENTING REWARDS CLUB: DECK 5 MID
SKYLINE KTV: DECK 10 FWD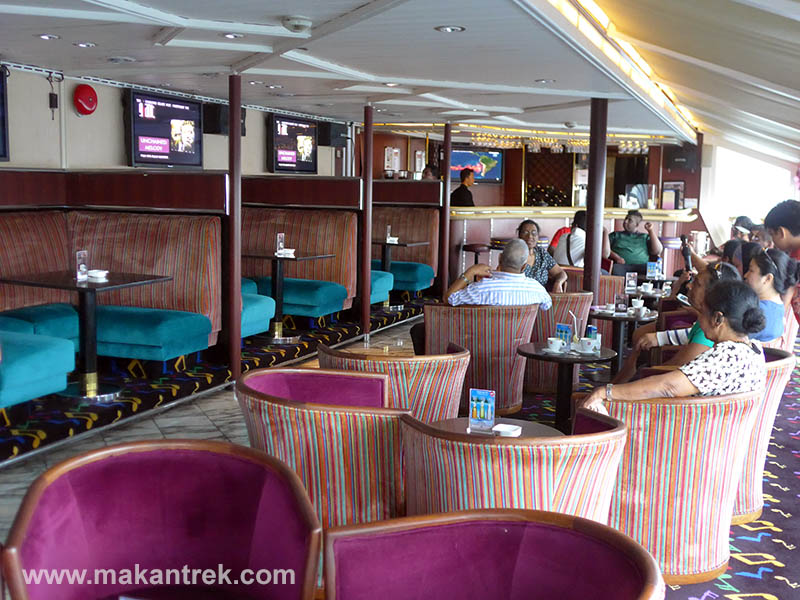 BOOMER'S DISCO: DECK 8 AFT
3D WALL ART PHOTOGRAPHY: DECK 5 MID & DECK 9 FWD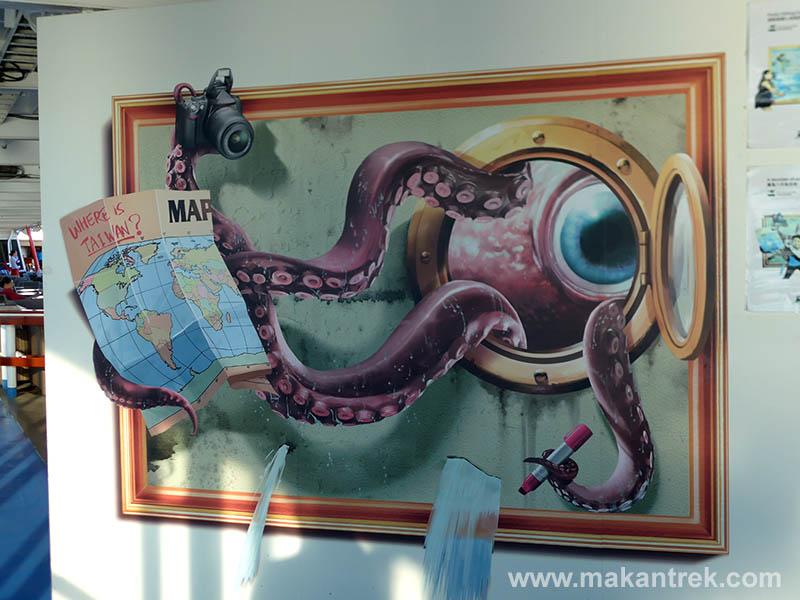 RECREATION & WELL-BEING: Please take note that some of the activities might require payment. Rules & regulations apply. Please check the Star Navigator for some of the group activities available daily at different designated decks.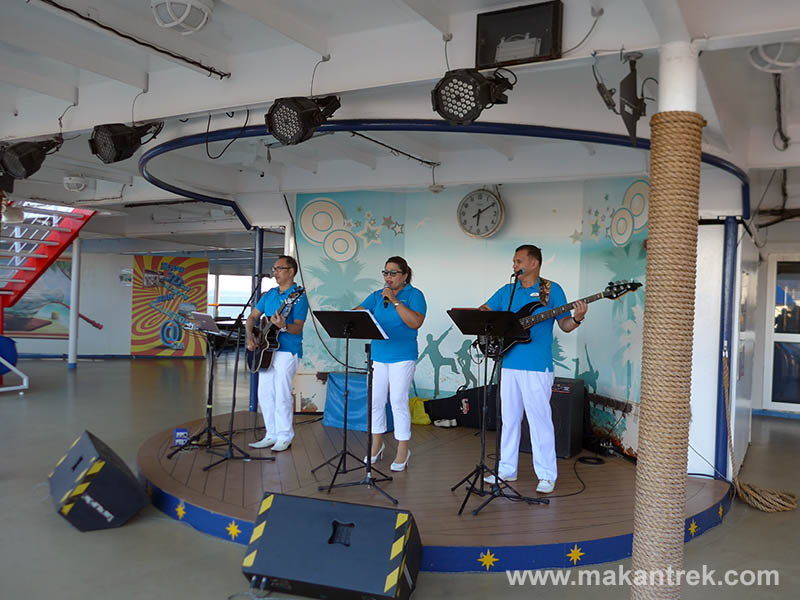 SWIMMING POOLS & JACUZZI: DECK 9 MID
TABLE-TENNIS: DECK 9 FWD
BASKETBALL COURT: DECK 6 AFT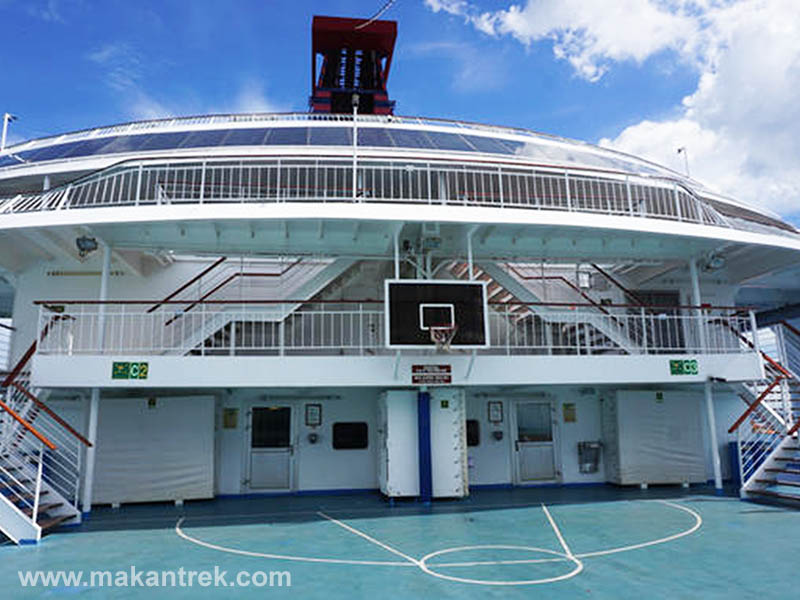 GOLF DRIVING RANGE: DECK 10 FWD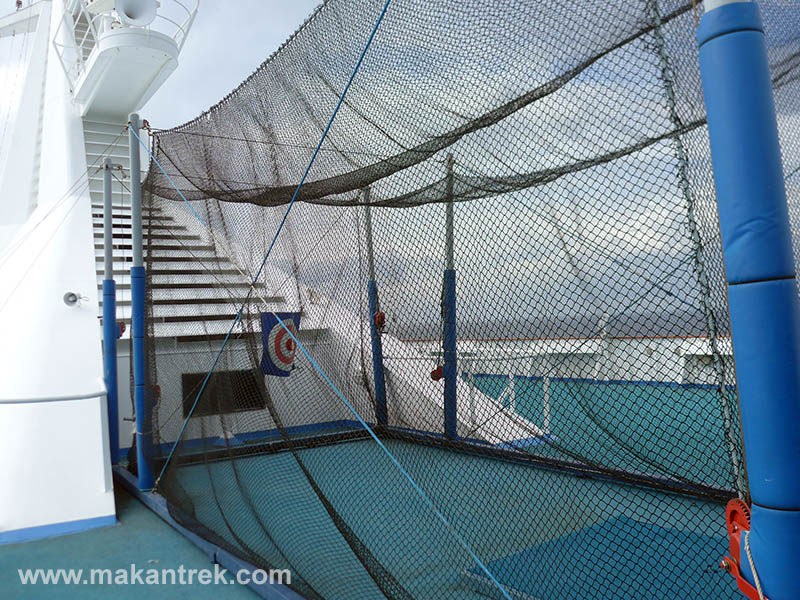 JOGGING TRACK: DECK 6 (EXTERIOR)
FITNESS CENTRE & SPA: DECK 10 FWD
FOOT REFLEXOLOGY: DECK 7 MID
OTHER SERVICES:
MEDICAL CENTRE: DECK 1 FWD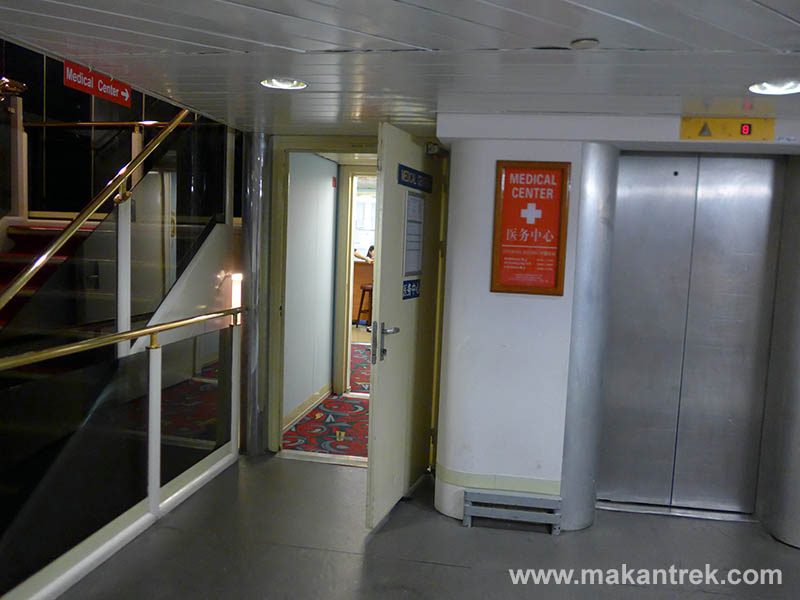 PORTHOLE (CHILD CARE CENTRE): DECK 3 FWD
BEAUTY SALON: DECK 4 MID
RECEPTION COUNTER & FOREIGN EXCHANGE: DECK 4 MID
SHORE EXCURSION COUNTER: DECK 4 MID (Please read the Information & Guidelines below)
ONBOARD SHOPPING:
CRYSTAL COURT (DAILY OFFER): DECK 4 MID
PORT O' CALLS: DECK 4 MID
HOT SPOT DUTY FREE, WATCHES, JEWELLERY & STAR BOUTIQUE: DECK 4 MID
To ensure a safe, enjoyable, memorable and stress-free journey with Hwajing Travel and Tours Sdn. Bhd.'s 5D4N or 4D3N overseas cruise packages onboard SuperStar Libra, please READ THROUGH all the details as provided below.
IMPORTANT INFORMATION & GUIDELINES
1. CHECK YOUR IMMIGRATION STATUS TO TRAVEL ABROAD (FOR MALAYSIANS): Before purchasing your cruise package, please check if you're being barred from leaving the country. This is to avoid any embarrassment at the Immigration Check Point (Find the reasons here).
a. Visit http://sspi.imi.gov.my/sspi/
b. Enter your Nombor Kad Pengenalan (IC number) in the text field
c. Click the "Semak" (Check) button
d. If the status appeared as "Tiada Halangan" (No restriction), you're clear to travel.
2. CHECK YOUR TRAVEL DOCUMENTS:
a. Your ORIGINAL Passport (more than 6 months of validity)
b. A PHOTOCOPY of your passport (for identification purpose on foreign land)
c. Original Visa for foreigner passport holder (if required)
d. Boarding Confirmation Slip
3. BAGGAGE CHECK-IN/CHECK-OUT
a. Passengers who wish to check-in their luggage would need to find the signage towards the baggage check-in area at the respective port. Most of the time, it would be at the lower ground of the terminal building. Each passenger would be given a tag for baggage claims after checking in their baggage. However, it's HIGHLY RECOMMENDED to carry your own to avoid congestion and delay in receiving them.
b. All baggage would be delivered to your cabin within an hour. Failing so in certain unexpected scenario, passengers are advised to contact the Concierge at the Reception Counter at Deck 4 Mid or dial "00" from your cabin.
c. Passengers are to ensure that their baggage is to be locked properly and no important travel documents and valuables are to be left inside.
d. For checking out of your LOCKED baggage, please refer to the Star Navigator for the collection time from your cabin. For safety reasons, plastic bags and open bags would not be entertained.
4. CRUISE FARE INFORMATION
– Cruise Fare is INCLUSIVE of Accommodation, Meals (Mariners Buffet, Four Season Restaurant, Ocean Palace), Facilities (Gymnasium, Swimming Pool, Jacuzzi, Sport Deck) and Travel Insurance & Tour Fare Protections.
– Cruise Fare is EXCLUSIVE of On-board Tipping, Beverages Orders, Optional Shore Excursions, All Personal Expenses, Visa Fees (if required) Rental of Game, Conference Facilities, Internet Facilities & others.
5. EMBARKMENT PORT/PORT OF CALL
a. PENANG: Swettenham Pier Cruise Terminal (GPS: 5.418844, 100.345264)
b. PORT KLANG: Boustead Cruise Centre (GPS: 2.984334, 101.336807)
c. LANGKAWI: Langkawi Star Cruises Jetty aka Jeti Star Cruises Langkawi (GPS: 6.259932, 99.735568)
d. PHUKET: The Port of Call will depend on the tropical weather and tides during certain months of the year.
– Patong Beach (Anchorage – roughly between November to April depending on their latest and updated passage): Ferry shuttle transfer to unnamed pier (GPS: 7.887548, 98.288576) in front of Avantika Boutique Hotel, Patong Beach, Phuket, Thailand.
– Phuket Deep Sea Port @ Chaophaya Terminal International Co. Ltd., Phuket, Thailand (GPS: 7.820233, 98.404803). There would be ferry shuttle transfer if the tide is too low for berthing.
6. CURRENCY USED
a. Onboard: Malaysian Ringgit (MYR/RM) – All payments to be charged to your Access Card and to be cleared via credit/debit card prior to check-out.
b. Thailand: Thai Baht (THB) – Advisable to get a better exchange rate onshore before embarking, though it could still be done at the Reception Counter at Deck 4 Mid onboard at a slightly lower rate.
7. LANGUAGE USED ONBOARD: ENGLISH but there might be more than 40 nationalities working onboard to assist you if you have any language barrier.
8. TYPES OF ROOM AVAILABLE: There are 3 types of cabins available, namely Suites (Executive: AA & AB, Junior: AC, AD & ADB), Oceanview Cabins (Deluxe: BA, BAB & BB, Window: CA, CAB, CB & CC, Porthole: CD) and Inside Cabins (DA, DB & DC). There would be 4 rooms specially cater for the Physically Challenged Passengers at Deck 4, thus please make the necessary request when booking. Please be aware that cruise rate would be different based on your cabin choice. You can check on the Virtual Tour of the rooms available.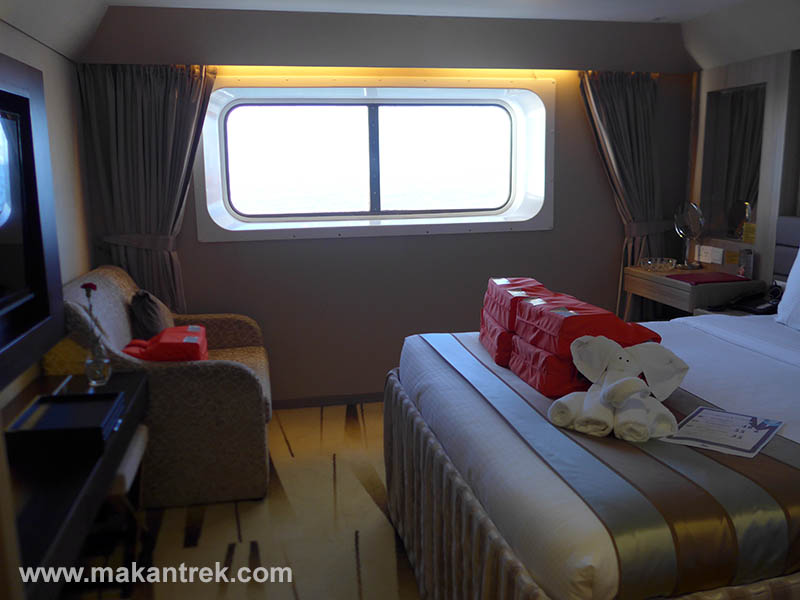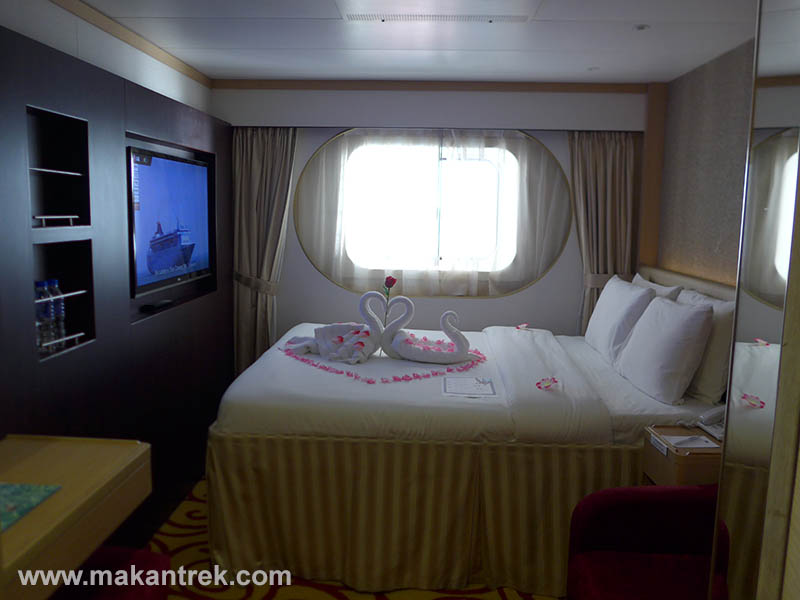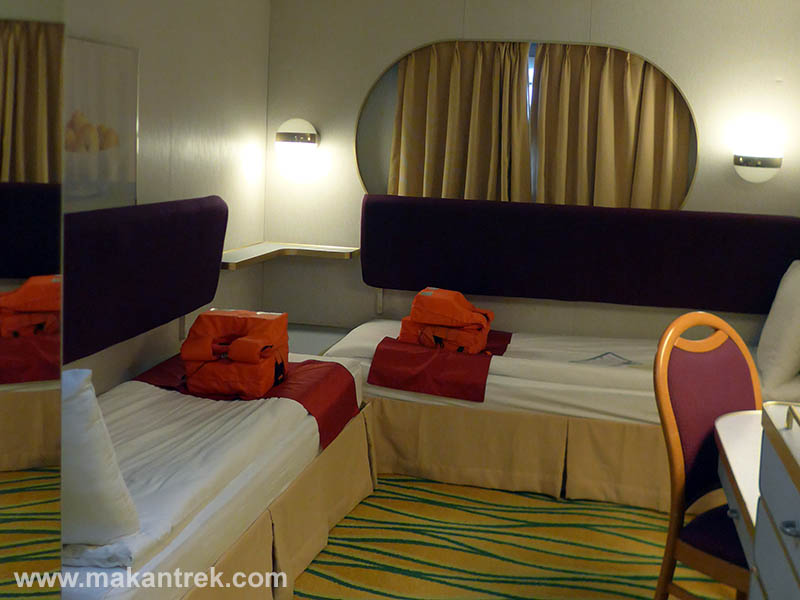 9. ACCESS CARD – YOUR ALL-IN-ONE CARD: Keep it safe and carry with you at all times. Each passenger would be given one Personalized Access Card with your passport listed Name, Cabin Number, Duration Onboard and Assembly Station imprinted clearly. The Access Card can be use as
a. Onboard Identity Card (Access to all onboard restaurants, bar and facilities)
b. Onboard Charge Card (Total bill incurred has to be cleared at the Reception Counter before the time stated on the Star Navigator. Only then could you claim your passport back upon check out)
c. Key Card (Room Key)
d. Embarking & Disembarking Access Card (For the cruise system to record your entering and leaving the ship for security reasons)
10. ONBOARD INTERNET CONNECTION: Almost everyone would want to get connected onboard somehow and there are a few ways you could do that. Here are some of the possible ways to get connected onboard:
a. International roaming services from your telco might be switched on automatically (Please switch off when not in use while cruising as you might be charged unnecessarily on your telco bill).
b. Purchase your WiFi onboard (Steps would be shown on the poster stand in your cabin – Estimated Cost: RM118 for 72 hours)
c. Pre-purchase your onboard WiFi online at least 3 days before your departure and get some discount – Estimated Cost: RM100 for 72 hours).
d. Purchase Coffee & Cakes (or Beverages depending on the ongoing promotion) at Crystal Court Deck 4 Mid and get connected – Estimated Cost: RM15 for 2 hours)
e. For frequent traveler, you might want to consider getting purchasing Flexiroam X before your trip. Flexiroam X is a microchip which converts your SIM card into Dual SIM. To use it, attach it onto your existing SIM card and activate it through the Flexiroam X App. Then, switch between Flexiroam X network and your home network to enjoy roaming in over 100 countries for a year.
11. SAFETY DRILL REQUIREMENT (MANDATORY): The International and Maritime Law requires all guests to attend this very important drill at least once. Please collect your lifejackets provided in your cabin and bring together with you to the assigned Assembly Station stated on your Access Card.
12. STAR NAVIGTOR (DAILY PROGRAM): Star Navigator is an in-house published flyer as your guide for your daily activities. You could find a copy clipped beside your cabin or you could anytime pick up one at the Reception Counter at Deck 4 Mid. The daily printed flyer would show the daily available time for all activities, operation time for each eatery, services and facilities available for the day as well as some important announcement for the day.
13. SHORE EXCURSION (TENDERING BOAT TICKET): Guests are advised to purchase their shore excursion choices at the Shore Excursion Counter as early as possible due to limitation of seats available for respective excursion. You are also advised to acquire the respective excursion sticker in advance at the respective counter as advised. Please do check clearly on which local time (e.g. Thailand Time) to take note on to avoid missing your transportation back to the ship. Some of the choices might include Shore Excursions at Penang, Port Klang, Langkawi & Phuket. (Please click on the respective link for other options).
14. DRESS CODE: You are free to dress as you wish, comfortably and casually, based on the environment, destination or occasion. However, for the use of certain facilities onboard, you have to adhere to the Rules & Regulations set by the respective outlet.
a. Pool Side: Proper bathing suits and casual shoes (e.g. flip-flops, sandals, sneakers, causal shorts, t-shirt or cover up).
b. Fitness Centre: Running shoes, sneakers, extra shorts, t-shirts and socks.
c. General Strolling on Decks: Low-heeled, rubber soled or comfortable walking shoes or sandals.
15. NO SMOKING POLICY: Smoking is not allowed in any of the indoor public area except at open decks with smoking signs.
16. BEVERAGES ONBOARD: Please take note that ALL BEVERAGES (alcoholic and non-alcoholic) ordered onboard other than those served at the buffet lines are CHARGEABLE. However, your request for ice cubes or hot water to your cabin from your deck housekeeping team would be on the house.
17. BARRED ITEMS ONBOARD: Due to health and hygiene issue, all outside food, especially cooked or uncooked meat items are not allowed to be brought onboard after your shore excursion. Fruits such as durians, mangosteens and rambutans are STRICTLY PROHIBITED to be bought onboard. All baggage would be screened upon embarking.
18. MISCELLANEOUS: You are advised to bring along anything extra which you might need onboard such as jacket, swimwear, camera, medicine (if required), sportswear, slipper, sun block/tan, hat/cap, sunglasses and international adapter (Please take note that the sockets available onboard would either be 220V Europe 2-Pin Socket and 110V US 3-Pin Socket. It would be great if you could bring along one international adapter plus a multi-socket extension cord for the charging of your multiple devices).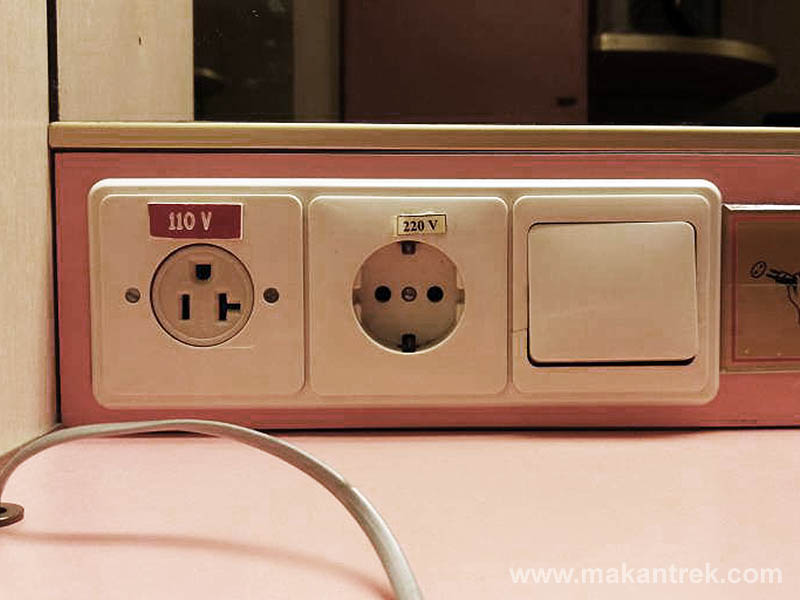 19. OTHER IMPORTANT INFORMATION:
– PHYSICALLY CHALLENGED PASSENGER is advised to submit their request for assistance from the respective cruise ticket purchase agency and/or Reception Counter or dial "00" from your cabin for special embarking and disembarking arrangements. A standby crew would be available to assist in such scenario. You are advised to disembark last for your own safety. There would be 4 rooms specially cater for the Physically Challenged Passengers at Deck 4, thus please make the necessary request when booking.
– All purchases of spirit & wine bottles are to be consumed onboard. You are required to be declared at the Royal Malaysian Custom Counter on any purchased bottle upon disembarking.
– Most of your special requests such as cabin upgrade, prayer mats, express check-out and more could be enquired at the Reception Counter at Deck 4 Mid.
– All the important notices and guidelines would be shown on the daily updated Star Navigator. Please read through carefully on all the details once you get hold of a copy.
– It's advisable to travel light to avoid the hassle of checking in and claiming your luggage when embarking/disembarking from the ship. Your total baggage weight should not be more than 30kg.
Basically, from now until March 2018, SuperStar Libra would travel on such days as shown below:
For more information, please contact Hwajing Travel and Tours Sdn. Bhd. as below:
KL (HQ):
Address: Block N-26, 2nd Floor, Warisan Cityview, Jalan 3/93 A, Batu 21/2 off Jalan Cheras, 56100 Kuala Lumpur.
Contact Number: +603-9200 2929 (Phone), +603-9283 6566 (Fax)
Business Hours: 9.00am to 6.00pm, 9.00am to 1.00pm (Saturdays) – (Closed on Sundays)
Email: info@hwajing.com.my
Penang (Branch):
Address: 15A, Jalan Rangoon, 10400 Penang.
Contact Number: +604-229 3566 (Phone), +604-229 0566 (Fax)
Business Hours: 9.00am to 6.00pm, 9.00am to 1.00pm (Saturdays) – (Closed on Sundays)
Email: infopen@hwajing.com.my
Website: www.hwajing.com.my
Facebook: http://www.facebook.com/hwajingtravel/
Here are some of the private tours and function we had the privilege to attend as specially invited guests onboard SuperStar Libra:
Bridge Tour: We had an insight on the daily operation of the ship at the bridge of SuperStar Libra where the ship is commanded to be in proper at all times. The bridge is manned by an OOW (Officer of the Watch), aided by an AB (Able Seaman) as the lookout for any obstruction ahead. We were astounded to see so many sophisticated equipment needed to safely navigate such a big ship towards each destination. There were so many devices to monitor such as the radars, sonar, GPS navigation device, ECDIS (Electronic Chart Display and Information System), Navtex (Navigational Telex), onboard smoke detection monitor, autopilot system, magnetic compass and more to handle. It's surely a busy job for all the personnel at the bridge to ensure the safety of all passengers onboard.
Galley Tour: We also had eye-opening experiences exploring the galley (kitchen) of SuperStar Libra where the skilled chefs churned out endless dishes to feed the thousands onboard. There were many procedures and processes within the galley which impressed me, especially how food waste was handled so professionally until nothing was actually wasted. Using the greatest technology available, the galley would also reprocess food waste into nutritional fish feeds and recycle within the ecosystem. Genius! Moreover, it was a wonder how the galley was able to produce delicious cuisine minus the usage of fire onboard. All the pepping up of dishes within the galley is done by only electrical appliances and all dishes are MSG-FREE! The galley also works by the strictest Muslim rule where specific food orders are sent by a specially assigned in-built elevator for Halal dishes. Thumbs up!
Mid-Autumn Festival: We were privileged to create history by becoming the FIRST ever group to celebrate Mid-Autumn Festival while sailing on the Andaman Sea on SuperStar Libra. The night was fun-filled with laughter, games and lots of mooncakes. The event was a collaboration of Hwajing Travel & Tours Sdn. Bhd., SuperStar Libra and AiFM. The event was also highlighted on TV2's 华语新闻 on 4 October 2017 at 8.00pm during the actual day of Mid-Autumn Festival.
A big thank you to Hwajing Travel and Tours Sdn. Bhd. and Star Cruises – SuperStar Libra for having us onboard for some memorable experiences.
About Star Cruises – SuperStar Libra

: At 42,285 gross registered tons, SuperStar Libra, is 216.3m long and 32.64m wide, with an average cruising speed of 17 knots. SuperStar Libra, is 10-storey high and offers 718 cabins, with 1,436 lower berths. The full range of facilities includes SIX restaurants (Spices, Blue Lagoon – 24-hour Dining Outlets with Asian Specialties, Four Seasons Restaurant, Mariners Buffet, Ocean Palace & Taipan) and TWO bars (Pool Bar & Coconut Willy's), offering international cuisines and beverages to satisfy all tastes. Leave the cares of the world behind when you step onto this floating holiday resort. SuperStar Libra offers award-winning restaurants, immaculate suites and cabins, duty free shopping, excellent wellness, pampering and sporting facilities, pulsating night spots and traditional Asian hospitality. With the introduction of Star Cruises' multiple homeports and fly-cruise options, guests in Southeast Asia as well as the region will now have more flexibility and easy access to take a cruise with SuperStar Libra from any of these three well-connected key cities (Penang, the existing homeport, Kuala Lumpur via Port Klang, both in Malaysia as well as Phuket in Thailand), with Kuala Lumpur being the new major aviation hub in Asia.
About Hwajing Travel and Tours Sdn. Bhd.

: Hwajing Travel and Tours Sdn. Bhd. was established in 1989. The company increased its' market position in 2001 and 2008 with the introduction of affordable travel plans coupled with operating excellence. Hwajing Travel and Tours Sdn. Bhd. is committed to provide high quality yet affordable travel packages and experience for the travellers. Hwajing is also one of the main travel cruises for Asia Pacific. In almost 3 decades, Hwajing Travel and Tours Sdn. Bhd. has gathered a series of high-quality resources, through an elite team to provide the best service to the travellers. It currently has a branch in Penang, which is also the existing homeport for SuperStar Libra, with two other new homeports (Kuala Lumpur via Port Klang and Phuket, Thailand) being added in from September 2017 onwards.