Note: For Shore Excursion (Shorex), it's always advisable to go with the cruise's pre-set excursion packages even if you were to incur some extra cost on top of the cruise amount you have paid. Since it's the official Shorex by the cruise, you would be assured of getting onboard on time before the ship depart from the port. Since those packages have limited seating capacity, you are advised to pre-book your choice of excursion at the Shore Excursion Counter at Deck 4 Mid as soon as you had embarked onto SuperStar Libra to avoid any disappointment.
However, some passengers might want to explore Penang on their own since a lot of the places of interest would be within walking distance from the Swettenham Pier Cruise Terminal Entrance/Exit (GPS: 5.419418, 100.344371).
Firstly, you have to check on the timetable below on how much time you have at a specific port of call.
Basically, you would have approximately 8 hours in Penang but that does not mean you have that exact hours on land. There are many hidden time constraints during each port of call and you might end up with barely 4-5 hours on land which would also include time spent on transportation in between destinations.
IMPORTANT PROCEDURES TO TAKE NOTE:
1. Queuing up for Access Card scanning/face check upon disembarking would require some time. It could be few minutes until an hour or more with so many passengers onboard.
2. There might be the need to go through the Immigration Counter. It could be few minutes to an hour plus depending on the crowd. The same goes to coming back from your personal expedition to get onboard.
3. Please pre-plan your personal itinerary in advance prior to the trip so that you would not lose out valuable time on land. That would include your waiting time for a cab.
4. Cabs would be easy accessible at the entrance/exit of the port but make sure you agree on the fare before you engage them. If you need to use GRAB or UBER, please install the App in advance for your IOS/Android mobile. Please ensure that you have your relevant country SIM card or roaming services activated to do so.
5. It's also the cruise's major rule that you have to check in and be onboard NOT LESS THAN 90 MINUTES before departure time.
6. BARRED ITEMS ONBOARD: Due to health and hygiene issue, all outside food, especially cooked or uncooked meat items are not allowed to be brought onboard after your shore excursion. If you were to buy some edible local products home, it's advisable to make sure that they are vacuum packed properly. Fruits such as durians, mangosteens and rambutans are STRICTLY PROHIBITED to be bought onboard. All baggage would be screened upon embarking.
WHAT CAN YOU DO IN PENANG THEN?
Travelling within Penang can be quite easy as the surrounding areas nearby the Swettenham Pier Cruise Terminal is rich with heritage buildings, places of attractions and food. Most of these places would be reachable by foot. Even if you need transportation, cabs, trishaws, UBER or GRAB would be easily accessible.
1. The best part on berthing in Penang is that you can fully utilize the Central Area Transit (C.A.T.) Rapid Penang Hop On Shuttle Bus for FREE to explore the various heritage landmarks within George Town, the UNESCO World Heritage City. With 19 C.A.T. stops plying between Weld Quay to KOMTAR (Kompleks Tun Abdul Razak) at an interval of 20-30 minutes from 6.00am to 11.40am, you could visit the places of interest of your choice. Fortunately, the starting point (Station 1: Pengkalan Weld – GPS: 5.416977, 100.344410) of the Penang Hop On Free Shuttle Bus is just 4 minutes of walk away from the Swettenham Pier Cruise Terminal Entrance/Exit (GPS: 5.419418, 100.344371) and the last point (Station 19: Lebuh Downing – GPS: 5.417958, 100.343938) is just 3 minutes away.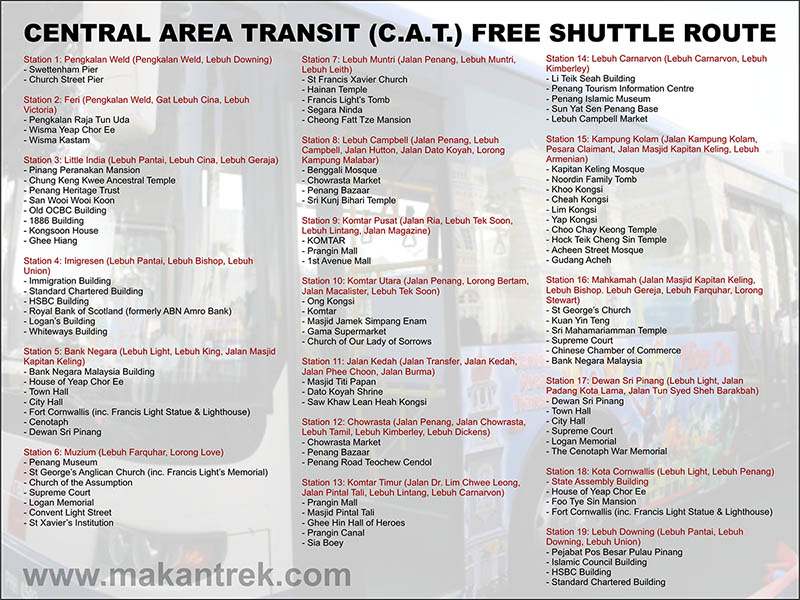 2. If you have the energy to go for sightseeing on foot, there are actually quite many interesting places nearby Swettenham Pier Cruise Terminal for you to explore within the heritage main core zone of George Town, Penang. Of course, there would be an abundant of street food offered, especially surrounding the Clan Jetties (GPS: 5.413000, 100.339740). You could also download the PDF File for more information from the Penang State Government's Tourism site.
3. It's always great to bring some great Penang local produce back to pamper your loved ones at home. Instead of running all over the island to find those delicious items, you could just refer to the 5 Recommended Shops To Get Your Penang Local Products. However, please adhere to the terms and conditions set by SuperStar Libra as mentioned above.
I hope you have a great cruising journey and experiences with SuperStar Libra. Bon Voyage!