The Songkhla's Great Serpent "Nag" or commonly known as the Phaya Naga (宋卡巨蛇 '那伽'/งูที่ยิ่งใหญ่ "นาคปรก" สงขลา), is the deity of the divine creation of water as well as fertility for all living things. The people of Southern Thailand believe that Nag, the Great Serpent, sprays divine water so as to make people feel fresh and happy, as well as purify the blemishes which occur within our mind and body. As a result, Nag, the Great Serpent, is one of the most respected deities in Southern Thailand. thus, the local people frequently pay respect to Nag and ask him to forever bring happiness and good fortune into their lives.
Of course, visiting the head alone is not enough as there's the body and the tail as well which all has their own unique symbolizations. Nag's body is segmented into three parts and located along the beach front of Samila Beach until Chalathat Beach in Songkhla.
The Phaya Naga "Head" is located at the Songkhla Municipal Song Thale Park, Laem Son On (GPS: 7.227117, 100.576919). The head symbolizes intelligence and wisdom.
The Phaya Naga "Body" is located at the Aculpture Garden Chaloem Phrakiat (GPS: 7.214191, 100.588145). It symbolizes wealth.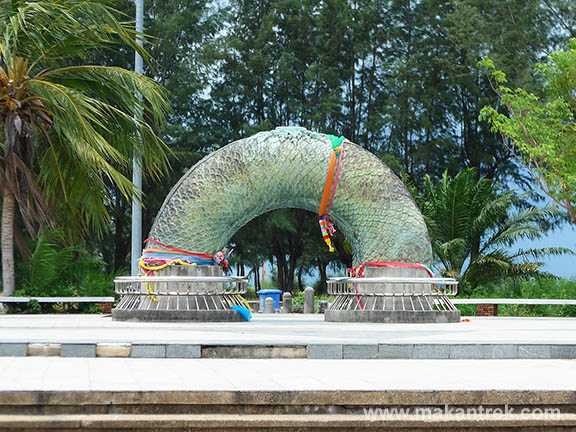 Finally, the Phaya Naga "Tail" is located at the Chalathat Road Beach Front (GPS: 7.209496, 100.599338) where it symbolizes charisma and strength.
If you could locate all the three segments and gave it a stroke or two, it's believed to bring you great fortune and happiness.
Note: The search for the Phaya Naga is made possible with the services rendered by My Leisure Tour & Travel Sdn. Bhd..